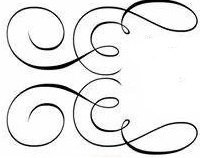 Port View Chicken Coop-

Approx: 6W x 12L x 8 T white with (shingle roof)

Included in price of coop:

* White Painted siding

* Beautiful  Tall Roof

* Cleanup shaving tray drawer  

* 4 Unit nest box,(door opens down), (shingled top )

* Storage/Feed Cabinet

* Closed in roosting area,

* two roosting poles

* two ladders (one for roosting area  /one for run)

* slide up run door

* One Walk in screen door on run / one for Extension Run

* 4 side small bottom barn style doors (to cover feed from wind and rain)

* 2 screen covered vent windows,

* Run screen (that looks like screen pane windows )

* Black outside light (decoration only)

* Black hinges

* Coop  color all white

Pre-Order your custom luxury coop today call 254-434-9449

Port View Coop with Extension Run / Metal Roofs   go to Price and otsions
view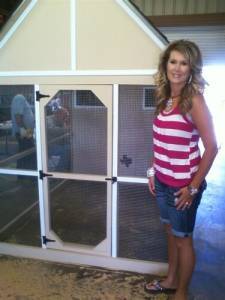 Our quality  custom chicken coops could be a future heirloom for generations to come.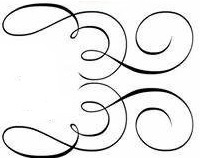 Texas Chicken Coops

       skilled southern style craftsman hard at work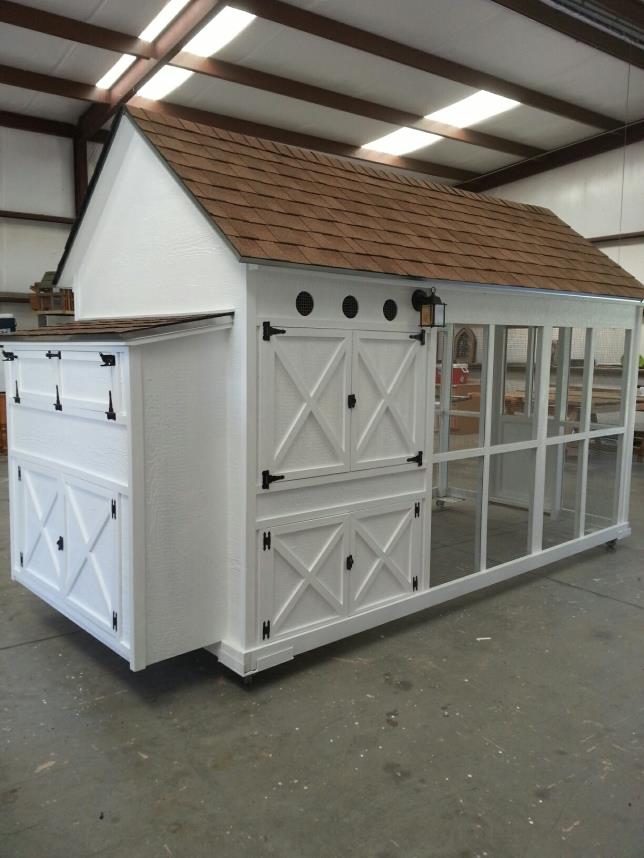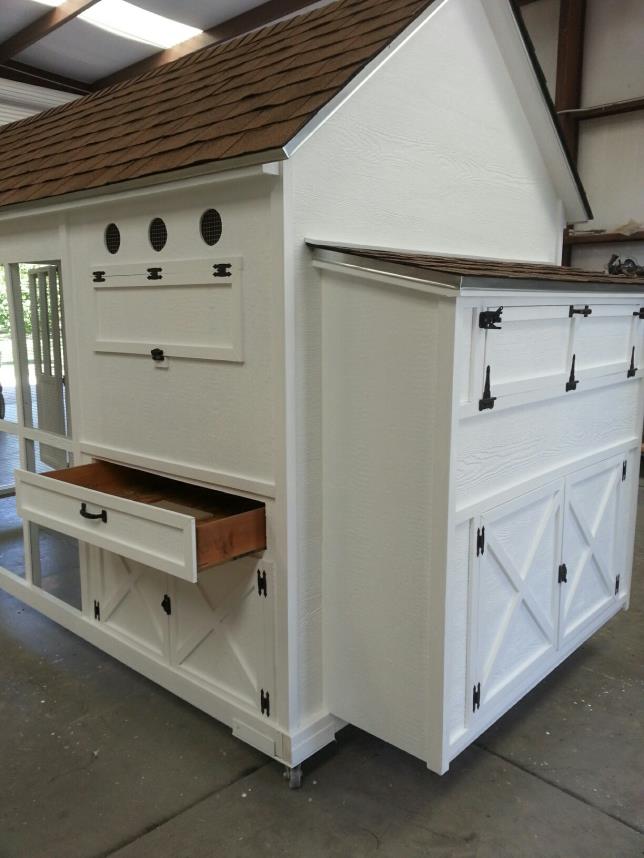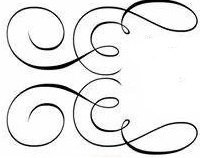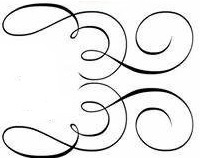 Luxury "The Port View" Coop

Enjoy collecting your own organic  fresh farm eggs for breakfast in one of these beauty's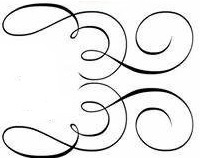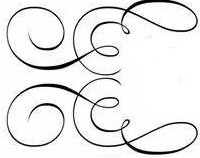 Order your coop today call 254-434-9449     

Pop sharing a moment with our great ganddaughter

What you share in moments, is woven into the lives of others,

Let God guide your motivation, inspiration, and charactor.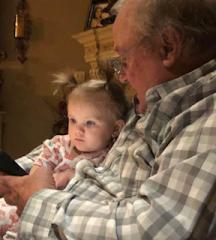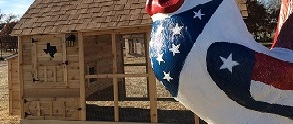 Texas Chicken Coops

     254-434-9449

Port View Coop /  shingled Roof without Extension Run

Our Luxury Port View Chicken Coop                                       

Out of state or more then 230 miles call for delivery fee or shipment fees.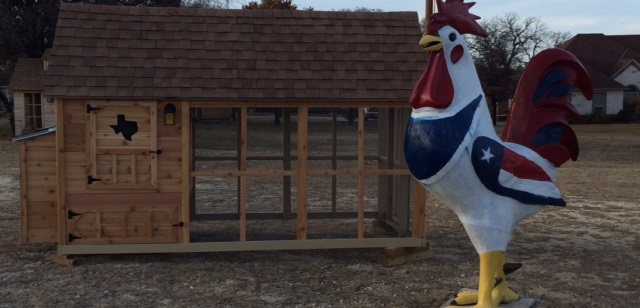 Texas Chicken Coops

       254-434-9449

Allow 2-4 weeks delivery or you may ship or pick up.       We only deliver on weekends -  No Holiday or rainy day delivery - Call if delivery is more then 250  radius.of Granbury TX . Out of state, if we are to deliver  coop, we need to have time to arrange for trnsporting date.  .   All goods and services are  As Is, Where Ise Is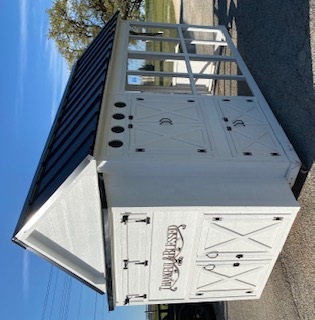 This custom black roof on the Port View coop embraces the culture of  the old South.

You may have the option to chose a colored metal roof on any of our coops..

The metal is custom made for our coops.  Pre-Order your coop with a stunning metal roof today.

We have to order colored metal as soon as possible, sometimes if they don't have the color in stock  it can take 4 to 8 weeks for them to get it in.

All the coops look so good with metal roofs but I truly love the Port View with metal roofs..they are just stunning.

We are to install our first cupola on one of  these beautys soon.   Our customer wanted the works and we are here to see they get it. Their ranch roof is hunter green so the metal on their custom coop will be hunter green .. i can not wait to see the  cupola and weathervane on their coop...

These pampered pet feathered friends are going to live the good life southern style at the ranch for sure!

Port View Coop /  Metal Roof without Extension Run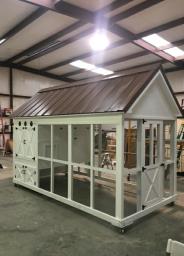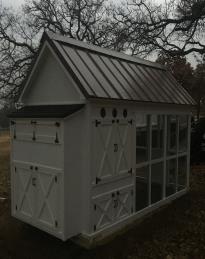 Port View Coop, building in-progress for a Extension Run:

This beautiful metal roof color is call Copper, our customer made a great choice in adding the Extension Run and this stunning copper colored metal roof to their custom Port View coop..
view
this beauty as they are Setting it up at our customers wonderful ranch.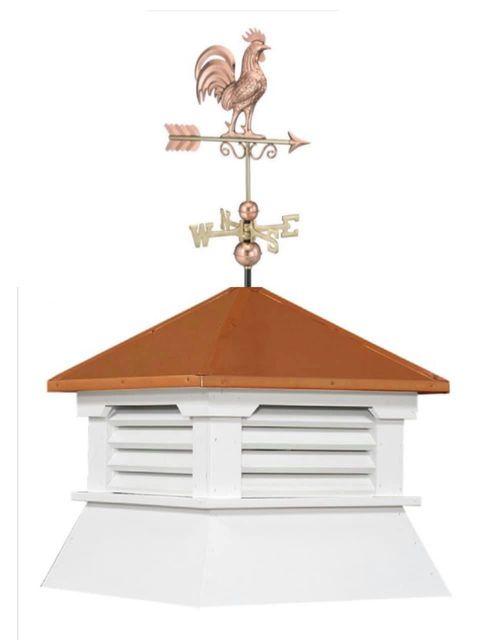 Add either of these stunning copper roofed Cupolas and Rooster Weathervanes to your custom coop   

Pre-Order Call 254-434-9449.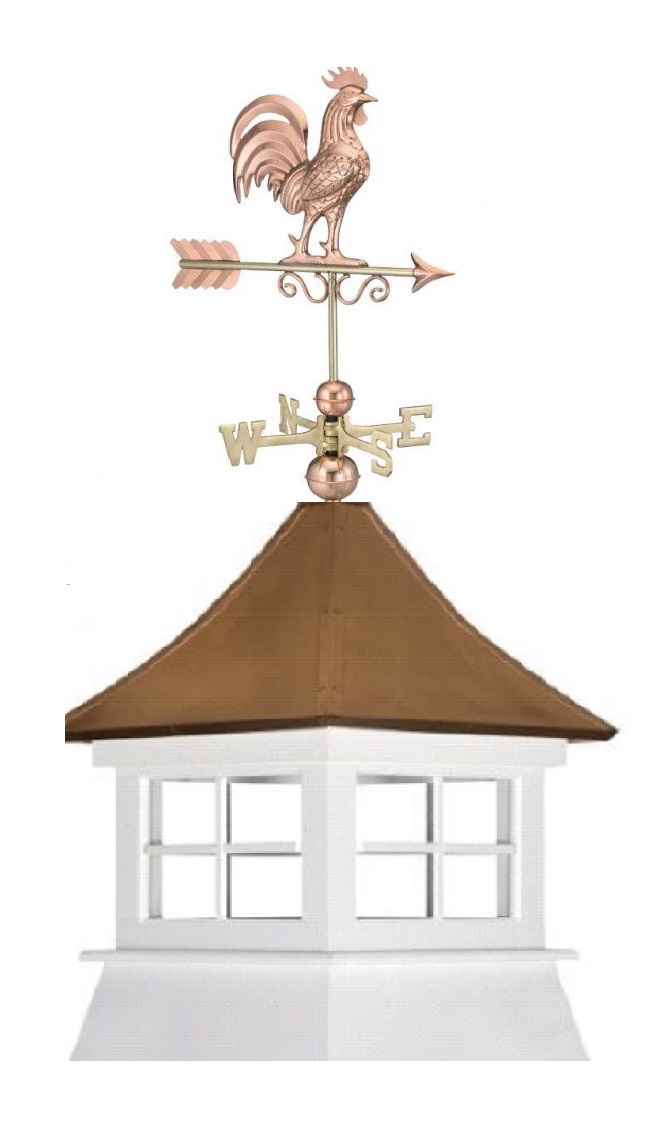 This copper cupola comes with a light kit which your electrician can hook it up easily to a switch, or we can have our electricican do the job for you.

Made in the USA by Amish master craftman.

We are proud to add a stunning element to our coops, New to us for this year of 2021.  The Elegant old fashion look of Copper roofed Cupolas & Rooster Weathervanes.

The Port View coop rated #1 out of top10 reviews, as the best luxury chicken coop in beauty, design and quality           Topped #1 Best Luxry Chicken Coop for 2021

View the

Extension Run/Metal roof available for the Port View
Unit
Add to the Port View Coop  Extension Run / Metal Roofs