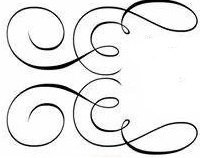 luxury coops, chicken coops, tx chicken coops,texas chicken coops, pet chicken coops, eggs, hatching eggs, dallas tx chicken coops , ft worth tx chicken coops, austin tx chicken coops, granbury tx  chicken coops, waco chicken coods, coops for sale in texas,Decatur tx chicken coops, chciken coops tyler tx , chicken coops Mabank Tx, coops in Cedar Creek ,coops for sale in tx, , huston tx coops, coops huston tx, stephenville tx coops,

Texas "Ports View" Coop by Texas Chicken Coops

  Luxury & Fancy Chicken Coops - Pet Houses

Affordable Prices ~  Monday-Sunday 24/7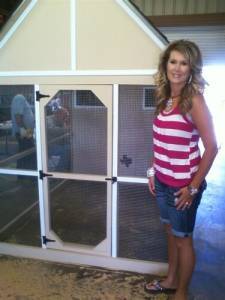 Best chicken coops & pet houses  in Texas  per order today! 

Luxury Chicken Coops by Texas Chicken Coops quality coops that could be a  future heirloom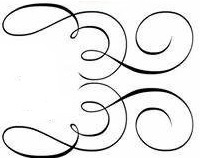 We are backyard chicken coop experts. Luxury to country coop designs                                          by skilled master craftsman Texas Chicken Coops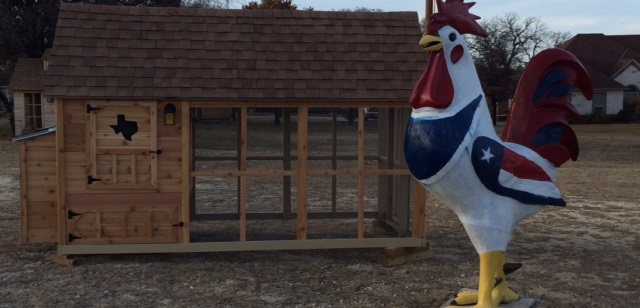 Texas Chicken Coops

    254-434-9449

    Quality builder - Affordable Price

Texas Chicken Coops a hands on master designer and builder of unique and posh pet, bird, and fowl homes-coops for mans best friend!

Texas "Ports View"  Chicken Coop

Approx: 6W x 12L x 8 T

Included in price of coop:

* Painted siding (our chose or yours)

* Beautiful  Tall Roof

* Cleanout shaving tray drawer 

* 4 Unit nest box,(door opens down), (shingled top )

* Storage/Feed Cabniet

* Closed in roosting area,

* two roosting poles

* two small ladders (one for roosting /one for run)

* slide up run door

* Run walk in screen door

* 2 side small botton barn style doors (to cover feed from wind)

* 2 screen covered air windows units,,

* Run screen (that looks like screen pane windows )

* Black outside light(decoration only)

* Black hindges

* Coop Wihte base color

* Our Texas state cutout Logo  or OKLA, ARK. state cutout logo or round port holes

We can have this beautiful custom tin roof made for any coop of your chioce!

Our Texas "Ports View"  coop is made for the elite families who pamper their feathered pets. This quality henhouse inspires the backyard chicken farmers! We build quality chicken coops that makes collecting Farm Fresh Eggs Easy & Fun !

Texas Chicken Coops ,We believe offers one of the best and beautiful custom cedar or sliding chicken coop-backyard chicken coops- for raising peeps and hens. Our Texas backyard chicken coop/henhouse our Not the Average backyard chicken coops, Peeps they are Inspiring coop habitats for your backyard chickens... View our new design the Texas Ports View Coop its a very beautiful luxurious chicken coop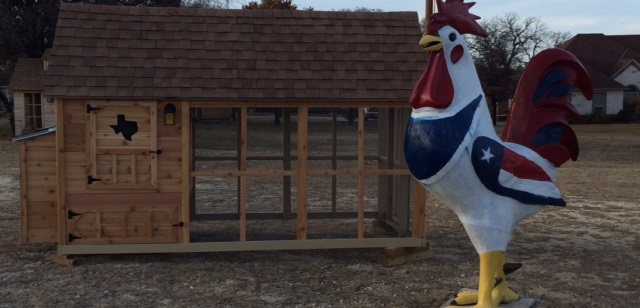 Texas Chicken Coops

    254-434-9449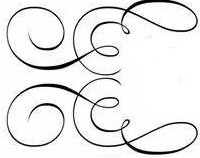 Backyard chicken coop experts. Building Luxury Fancy, Psoh to Funky chicken  coops and pet house for  pampered pet and their Peeps! Texas Chicken Coops - Granbury TX / Tolar Texas

Allow 2-4 weeks delivery or you may ship or pick up.       We only deliver on weekends -  No Holiday or rainy day delivery - Call if delivery is more then 300 radius.of Granbury TX  or out of state we need to arrange  for delivery fee or  shipment fees. There is a credit card transaction fee of $100.00 that will be added to coop cost.

We are not responsible for any services, special handling,delivery, products ,materials or labor as cedar/sliding's, shingles, paint or sealer hardware's,nails,screws,etc .  All items and services are sold  As Is, Where Is